"The Jesus Project Erfurt offers more than just a profession. It is your way into your calling! Become a part of our fellowship as well. Here you can work as a full-time employee, intern or volunteer.
We are looking forward to getting to know you personally!"
Social year and internships at the Jesus-Project Erfurt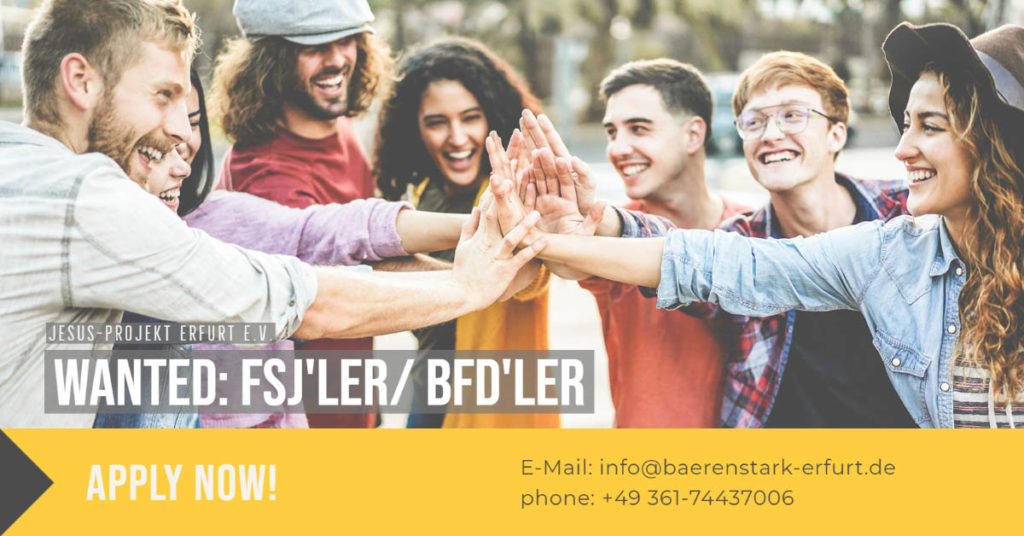 You want…
… to get to the bottom of your calling?
… discover your gifts?
… help to shape Christian district ministry?
… train your social skills?
… Test life in community?
… work with socially disadvantaged children?
Then you've come to the right place! Do an internship, year of recognition or voluntary service with us!
Your tasks as a volunteer – bärenstark Erfurt
open and mobile child and youth work
Playground activities, mentoring, small group work, holiday programmes etc.
Office and public relations work
Opportunity to bring in your own gifts.
Living in fellowship
As part of your voluntary service, you will live together with us as a community on the Roter Berg in the Plattenbau and take part in our life together.
Curious?

Volunteer work
You can work for us on a voluntary basis: Besides your studies, in your free time or during your retirement, you can invest in something good.
Talk to us if you want to help us!