holiday programme for kids & families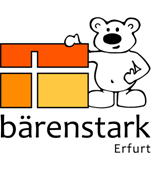 Contact person
Holiday programs

Julia Zajonc
j.zajonc@jesus-projekt-erfurt.de
our holiday programs
Many families on the Red Mountain live on social welfare and cannot afford holidays, excursions or expensive holiday courses, which is why it is usually said that children are on holiday: Stay at home and get bored.
We offer the children a variety of children's programs and excursions at every holiday time, also for the whole family. In return, we come up with a lot of ideas and boredom does not occur to us!
Help us to keep our programs as varied and exciting as before and support us!
Summer party
July 2019
This year, we kicked off the summer holidays with a big summer party. We spent a wonderful day in the best weather and the many children and their families had a lot of fun with our stage program, a bouncy castle, flea market, playgrounds, face painting, barbecue and much more. Have a look for yourself!
awesome football week
July 2019
For our soccer enthusiastic kids a coach from "Sportler ruft Sportler" came for a whole week and got them on their toes. There it meant training every day, showing team spirit and of course having fun playing soccer. Finally our kids were allowed to go to the Erfurt stadium of Rot-Weiss-Erfurt. A really fantastic week!
super overnight stay
July 2019
Sleep under the stars once? Our kids dared to do so and pitched their tents on our new property in the middle of the prefabricated concrete slab building. For some it was the first time camping ever. With campfire and bread, good adventure stories and a sparkling starry sky, we felt right at home in nature. An adventure for one night!
road trip to a football tournament
July 2019
In the fourth week of the summer holidays, our soccer-loving kids went to Munich for the AudiCup. Thanks to STARS4KIDS we had the unique opportunity to go to the Allianzarena and see the big football stars live. With two cars we drove to Munich at noon and already on the trip the kids were quite excited. For all of them it should be the first time in such a big stadium.
Arrived in Munich we first marvelled at the huge Allianzarena and then the first game started. Real Madrid against Tottenham Hotspur was a good start. When FC Bayern scored 6 goals in their second game against Fenerbahçe Istanbul, the mood among our kids was unbeatable and after a great evening in the best stadium atmosphere, we left for Erfurt, where we arrived early in the morning exhausted but happy. A unique experience!
We would like to thank the STARS4KIDS foundation who provided us with free tickets for this event and our volunteers who brought and accompanied our kids safely to Munich and back.