VIP-Picknick  ( Men's Supper )
The idea for the celebrity picnic arose when, due to Corona, no larger events were possible in our ANDERS meeting centre. Finally – with the first relaxations in mid-2020 – we invited to a first barbecue evening on our new building plot. That's awesome for these meetings! Above all, we want to offer young adults community. Simply sitting together on camping chairs under the trees on the edge of the residential area – you can see trough each of the six to eleven guests how valuable this community is. After a snack and a relaxed discussion round, bocce or Viking chess is usually played.
Fridays 18:30hrs – 20:00hrs in or in front of the Anders meeting centre
or opposite on the meadow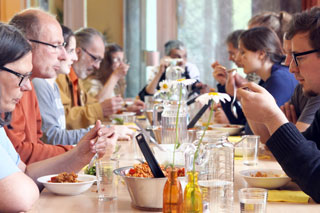 VIP Lunch. what is it?
This is what we call the weekly edition of a warm lunch meal to the celebrities of the Red Mountain. They are well known because they are part of the backdrop of our district like the Eiffel Tower in Paris. They are known (prominent) among the inhabitants, but they are mainly known (prominent) and especially popular with God. Treasures in his eyes.
read more