VIP-table
Everyone is welcome here, because everyone is an expert in their own lives. We exchange ideas on a wide variety of topics, discuss questions relevant to everyday life and share life experiences. It is always good to talk over a cup of coffee or tea and many wisdoms of life come to light. For many participants it is a nice change from the often daily and busy everyday life and they look forward to the discussion every week.
"The acceptance and appreciation can be felt so strongly here. That's why I like to come to the regulars' table every week!" – Participants
Come by and have a look at it – you are very welcome!
Unfortunately, the offer does not take place at the moment.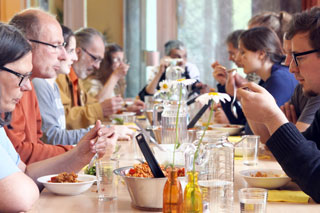 VIP Lunch. what is it?
This is what we call the weekly edition of a warm lunch meal to the celebrities of the Red Mountain. They are well known because they are part of the backdrop of our district like the Eiffel Tower in Paris. They are known (prominent) among the inhabitants, but they are mainly known (prominent) and especially popular with God. Treasures in his eyes.
read more